The best place to start with policy management is with the best practice wheel. An intuitive, easy-to-use solution should automate these best practices for you, so you can keep up with the complexities of managing policies and procedures.
The importance of Policy Management
Even. under normal circumstances, policy management is vital to mitigating potential risk caused by the actions of employees. Even well-intentioned and perfectly honest staff members can create risk by not being aware of proper policies and procedures.
In periods of disruption, as we've recently seen, policy management systems become even more important as organizations pivot to address new demands, such as implementing work-from-home strategies and office access permissions.
All of these require policy management, and efficient and streamlined processes for developing, reviewing, and implementing those policies consistently and enforceably across an organization.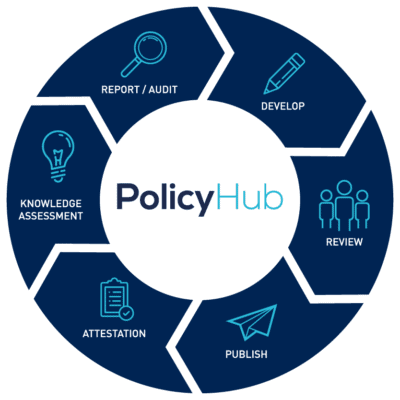 Policy management best practices
In order to mitigate risk and limit the possibility of damaging policy management failures, it's vital that organizations pay careful attention to policy management best practices.
From development strategies that prioritize centralization, to automated workflows that take human error out of the equation? There are plenty of things that can be done to enhance policy management tools in ways that make a real difference to a business.
Take a look at the following tips to see how policy management procedures can be improved to help protect your team and keep your organization secure.
Develop
To create an effective policy management program, you need to create a centralized repository where you can develop, create and maintain policies. This repository should serve as the hub to keep all your policies easily accessible, with an audit trail trailing behind.
Review
With a central hub for policies, monitoring your policy management program becomes easy and intuitive. Set automated workflows for new policies to make sure the right people review the right policies at the right time before a policy goes live to your employees.
Automatically ensure version control so approvers only see the most recent version of a policy, making the review process a breeze.
Publish
Publish your policies quickly and get them in front of the right people in an easy-to-use fashion, no end-user training required. Determine the right way to communicate and trigger automatic workflows that send policies only to the people who need to understand and attest to them.
Stop wasting employee time by publishing everything. Instead, only share policies with the specific job titles that need them, without extra effort on your part.
Affirm
With the right policy management tool in place, management gains real time insight into who has accepted which policies, which version of a policy and when they affirmed receipt.
Affirmations help enforce your compliance program from the top down. They enable employees to understand the core values of an organization, as well as opt into them, aligning everyone from leadership down to the most entry-level employees.
Assess Knowledge
Policies will never work properly if the people who create them don't have insight into whether or not they're communicating effectively. It's therefore critical that leadership knows if employees understand their policies and procedures. The only way to gain this insight is to assess an employee's knowledge through testing their understanding.
These assessments empower leadership to address knowledge gaps, remediate, review and change procedures as needed – all within the same system. It also automates routine surveys, to test that employees are putting those policies into practice.
Report and Audit
Ultimately, regulators want to see evidence that your compliance program is effective. Through your policy management solution, you should be able to quickly understand if your organization is protected, if you can prove that employees understand and comply with regulations and whether you published your policies in a timely fashion.
In other words, you should be able to wrap up everything you've done and demonstrate your program's effectiveness by providing a full report, including a report on your surveys and test results.
Managing policies in practice
Firstly, assign the responsibility to a lead. This individual will be responsible for compliant risk assessments and other policy management tools that work towards a successful compliance culture.
Make sure to fully assess the policy management tool you plan to use. Ideally your organization wants a solution where you can manage all policies in one central interface.
Invest time into mapping risks and objectives so that a policy exists for every identified risk that positively supports a core business objective. This will also help you remove duplicate policies or any policies that are no longer relevant as a solution.
A policy to act as a roadmap for other policies is essential. This ensures that guidance is readily available for any manager who needs to create a policy. This structure will prove a massive time saver with policy creation in the future.
Finally, policy management should continuously evolve. Changes need to be tracked, updates implemented and capability enhanced
Policy management tools: Why are organizations turning to software?
Policy management software is an emerging weapon in the fight against policy-related disruption. Software tools offer businesses the chance to quickly upgrade their policy management processes and make changes that will have widespread benefits.
There are many ways in which businesses can use policy management software to mitigate risk. By leveraging automated software, it is simple for business leaders to assess the management of ongoing policies, and identifying any areas that require improvement.
Summary
While some people try to manage this process manually, the manual approach just doesn't supply the level of robustness and detail you need to prove compliance to today's regulators and build a defensible compliance program. Not to mention, that manual approach? It's a waste of time and efficiency (and therefore, money).
Policy Management has never been easier.
Discover the solution designed with your compliance needs in mind.