We meet you where you are…
TeamConnect scales to meet your legal department's exact needs – and can take you anywhere you want them to grow.
It's the proven Enterprise Legal Management (ELM) platform that brings together people, processes, and information from across your enterprise, providing focus so you can transform Legal Operations.
Best-in-class ELM
TeamConnect is the only platform delivering both robust, powerful functionality and adaptability – fostering your self-sufficiency while freeing you from relying on vendors.
The leader in legal management
Our clients make up a legal operations community that's recognized for its leadership and willingness to share best practices with peers, and in the past year have received accolades from the Financial Times, ACC and ILTA.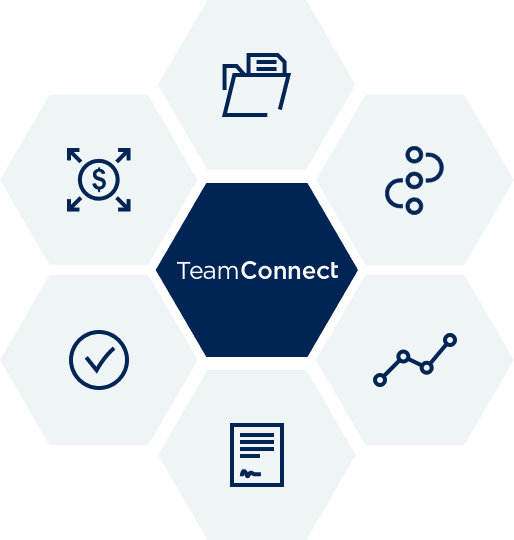 Hit your KPIs, reap ROI, and drive long-term value
>$500M
What clients have reduced in legal spend in 12 months
75% reduction
in an effort to open and assign new matters
1 million hours +
Attorney time saved over the 12 months
Want ROI? Run your own numbers
Benefit Type
Improvement (%)
Baseline
Benefit ($K)
---
6% Reduction in Legal Spend
$16 Million in outside spend
6% Improvement in productivity
20 attorneys * fully burdened cost
19 paralegal & admin * fully burdened cost
---
Your total annual savings:
How legal leaders put TeamConnect to work
Collaboration & Innovation
Uniquely meet the challenges of today's complex legal environment by securely extending the proven, single source of truth throughout the entire organization.

Efficiency & Savings
Tested and validated ROIs that drive 10-20% of yearly savings by streamlining processes, automating reviews, and proactively identifying and mitigating risks.
Litigation
Manage outside counsel through effective e-Billing used by more than 14,000 firms to manage budgets and rates among others to improve performance.

Contract Management
Create contract templates, securely execute approvals and e-signatures with automated reminders and alerts while centralizing contract information.
Compliance Management
Manage incidents and investigations, generate regulatory reporting, extend legal best practices to enforce compliance and adopt Integrated Risk Management.
Legal Operations
Optimize and accelerate your legal processes and extend their embedded best practices across departments through integration with Process Automation.
A proven suite of legal technology solutions
TeamConnect is just one product in a family of legal management software solutions that have been adopted by legal departments everywhere, in multiple industries.
From legal workflow automation to Policy Management, Information Governance and beyond, explore the entire range of integrated Mitratech solutions.