We meet you where you are…
What is TeamConnect? TeamConnect scales to meet your legal department's exact needs – and can take you anywhere you want them to grow.
It's the proven Enterprise Legal Management (ELM) platform that brings together people, processes, and information from across your enterprise, providing the focus and business insight you need to transform Legal Operations.
Best-in-class ELM
TeamConnect is the proven end-to-end ELM platform for Legal Operations to deliver more efficient legal services to the rest of the organization, combining matter management, e-billing, legal spend management, document management, reporting and analytics, and processing automation.
The leader in legal management
In 2020, TeamConnect was named a leader in IDC's Marketscape analysis of the ELM market – a reflection of our clients, who make up a Legal Ops community that's recognized for its own leadership and willingness to share best practices with peers.
"Mitratech continues to be recognized by its customers as a leader in enterprise legal management.  Given its deep industry knowledge and functional competence, Mitratech is well-positioned to continue to help its clients address complex, mission-critical issues and navigate the new normal."
Ryan O'Leary, Esq., Senior Research Analyst, IDC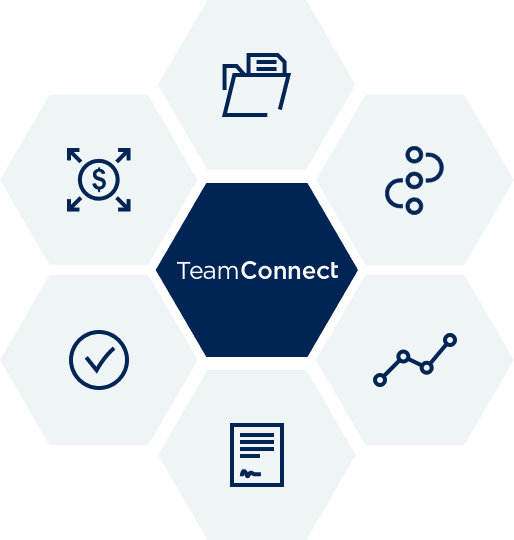 Hit your KPIs, reap ROI, and drive long-term value
>$500M
What clients have reduced in legal spend in 12 months
75% reduction
in the labor needed to open and assign new matters
1 million hours +
Attorney time saved over the 12 months
Want ROI? Run your own numbers
Benefit Type
Improvement (%)
Baseline
Benefit ($K)
---
6% Reduction in Legal Spend
$16 Million in outside spend
6% Improvement in productivity
20 attorneys * fully burdened cost
19 paralegal & admin * fully burdened cost
---
Your total annual savings:
How legal leaders put TeamConnect to work
Collaboration & Innovation
Uniquely meet the challenges of today's complex legal environment by securely extending the proven, single source of truth throughout the entire organization.

Reduce Legal Spend
Using Mitratech's latest AI technology, Invoice IQ, you can reduce time spent reviewing each line item and invoice review training costs.
Litigation
Manage outside counsel through effective e-Billing used by more than 14,000 firms to manage budgets and rates among others to improve performance.

Contract Management
Create contract templates, securely execute approvals and e-signatures with automated reminders and alerts while centralizing contract information.
Compliance Management
Manage incidents and investigations, generate regulatory reporting, extend legal best practices to enforce compliance, and adopt Integrated Risk Management. Additionally, improve invoice data accuracy by 70% with the help of machine learning.
Drive Efficiency & Savings
Tested and validated ROIs that drive 10-20% of yearly savings by streamlining processes, automating reviews, and proactively identifying and mitigating risks.
A proven suite of legal technology solutions
EraCLM
A leading-edge contract lifecycle management solution for improving efficiency, collaboration and time-to-agreement.

TAP Workflow Automation
TAP empowers you to automate nearly any repetitive manual process, so you can focus on what's important: doing the work, not wrestling with workflows.

Acuity ELM Essentials
The SaaS legal management solution that provides integrated matter management, e-Billing, outside counsel collaboration tools, and reporting to small and mid-sized legal teams.
LegalHold
An easy-to-use, automated SaaS solution for controlling the costs, ensuring the compliance, and mitigating the risks of a legal hold process.