See How Teams Like Yours are Automating with TAP
Self-Service Shouldn't be a Setback
When work becomes redundant, bottlenecked, laborious, mind-numbing, lengthy, painful, risky, unfulfilling…. something has to change, but "process improvement" can feel insurmountable.
If you can't afford to pause your daily to-do list for a lengthy review and implementation process–you might not have to.
Not a Programmer? Not a Problem.
Enter No-Code Automation.
Don't wait for project committees, developers, and one-size-fits-most solutions to change the way you work. The no-code TAP platform empowers non-technical business users to develop and deploy workflows in days and weeks — not months and years — saving you time, money, and sanity.
From Manual to Manageable, in Just a Few TAPs
No code means you own the workflow from the ground up.
You owning the workflow means you can revise, republish, and optimize as your business needs evolve.
The drag-and-drop designer empowers you to create dynamic intake forms and document templates, or import and digitizes your existing forms.
Define the flow of logic that will drive each stage to its next action. Configure your workflow with real-time collaboration, conditional routing, and integrations to your existing ecosystem — all without a single line of code — to optimize even complex processes without ever calling in IT.
From your first workflow to every update following, one-click publishing makes it easy to go live on your schedule. Add your branding, colors, and logos to match the look and feel of your business and make each workflow your own.
Don't stop with one workflow; continuously drive adoption and performance by revising, republishing, and optimizing your automation roadmap as your business needs evolve.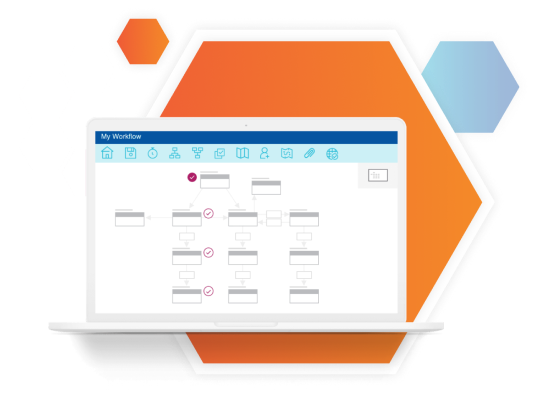 "In days, not months, we were able to solve some pretty specific problems, and we got a lot of great feedback from our law firms. They said it was better than some of their tech partners from the big five."
Bennett Pray, Legal Innovations Manager at Capital One
Start Today, Scale Tomorrow.
Apply automation to any process, and watch its impact spread to every department.
Explore the Complete Mitratech Platform
Mitratech has the right mix of solutions for any team in any industry. We can automate and unit your team's workflow to grow your business.
What Do "Drag-and-Drop Workflow" Tools Deliver?
With drag-and-drop workflow design tools, it's simple to design and publish automated processes in only hours or days, not weeks or months.  Those can be simple, complex, or linked together to automate large-scale operational processes.  Better yet, they can be revised and optimized with ease, so you can customize them to new challenges or continuously improve existing workflow performance.
80% faster turnaround
E-signature integration (like TAP's) can slash turnaround time on a document.
95% faster
A process like an NDA can be up to 20X faster with TAP Workflow Automation, yet with far fewer errors.
$3.6MM in savings
When one global legal department automated NDAs with TAP, its savings were huge.
"TAP lets us address many use cases. We can create and manage workflows on our own, without going to IT. That's a home run – and that's what we have with TAP"
Connie Brenton, Former Chief of Staff /Director of Legal Operations, NetApp
End-to-end Workflow Platform for All Your Business Needs
By adopting a workflow automation platform, you'll see major efficiencies that can quickly transform your operations. One TAP Workflow Automation customer is saving $3.6 million a year after introducing workflow automation as a business process management (BPM) tool.
Accelerate
Workflows and digitized forms can be designed and published in just hours or days, not months, thanks to TAP's drag-and-drop UI – and are executed in a fraction of the time of traditional processes.
Mitigate
Best practices and compliance can be embedded in every workflow to mitigate risks. Automating repetitive tasks reduces human error while cutting costs, delivering fast Time-to-Value and ROI.
Centralize
Managers get visibility into every workflow to monitor and fine-tune performance. Users share centrally-stored common assets, and all workflows and documents are automatically archived for security and review.
Collaborate
Drive more effective and rapid teamwork, even across multiple departments and outside resources. Plus, automated notifications, e-signatures, and role-based access features ensure proper, timely contributions.
How does workflow automation increase ROI?
Putting a workflow automation platform like TAP in place frees your employees to be more productive since they can focus on the actual work, not on wrestling with paperwork. The payback? Nearly immediate, and across a lot of fronts:
Accelerate your enterprise.
Transform your processes with best-in-class workflow automation.