Streamline Your Workflows: Advanced Features in Immigration Case Management with INSZoom
INSZoom Case Management is a comprehensive, compliant, cloud-based immigration software solution delivering all the capabilities needed to accelerate workflows while keeping client data secure.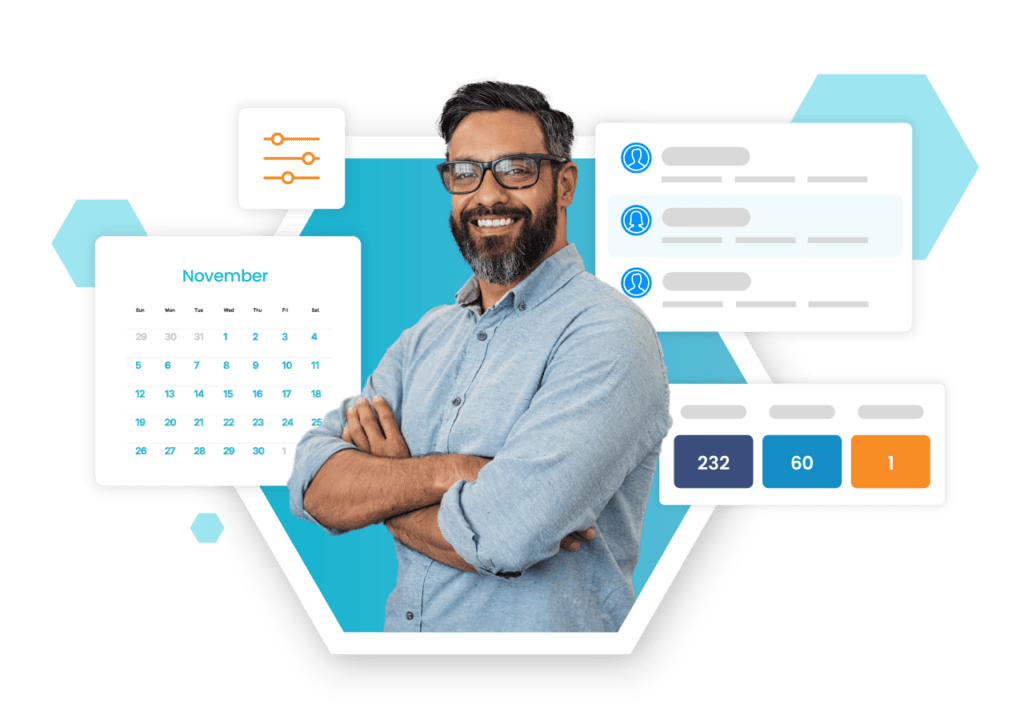 INSZoom offers different capabilities for U.S., Canadian, and Global Immigration support (learn more below!).
Our platform's core capabilities include:
Configurable workflows and reminders
Configurable automated events
Automatic expiration date and deadline alerts
Fast and accurate invoice generation
Tracking of case phases and milestones for SLA reporting
Seamless data & document migration support, and more!
Immigration Technology You Can Rely on — From a Partner You Can Trust.
INSZoom by Mitratech is where deep industry experience and leading technology collide to help organizations accelerate processes, mitigate risk, and drive compliance. Trusted by immigration services professionals and law firms worldwide as the industry-leading immigration software solution, our comprehensive, compliant, cloud-based platform delivers all the capabilities you need to accelerate workflows while keeping client data secure.
Discover why over 1,500 immigration practices rely on INSZoom to help them rise to the challenge of serving the evolving needs of immigration law.
Cutting-Edge Features and Continuous Enhancements for U.S., Canadian, and Global Immigration Case Management
INSZoom for Canadian Case Processing
Amid record-breaking population increases in Canadian immigration targets, INSZoom is helping immigration and global mobility professionals streamline day-to-day case management for increased accuracy, efficiency, and compliance.
INSZoom for Global Case Processing
Whether your organization supports immigration programs to North America, Asia-Pacific, Europe, or another region of the world, INSZoom delivers a seamless user experience and centralized visibility.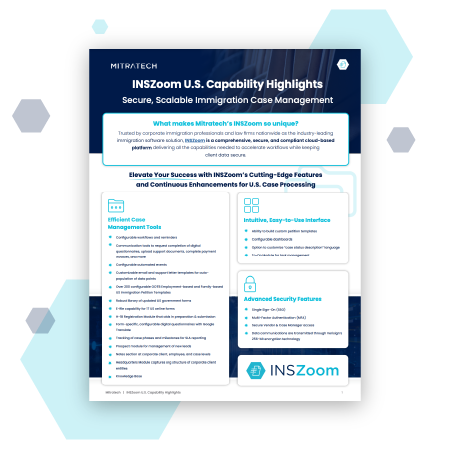 INSZoom for U.S. Case Processing
For law offices and immigration professionals supporting U.S. immigration programs, the INSZoom platform can help you manage rapidly changing requirements and time-sensitive deadlines as you move private individuals or corporate clients through the immigration process.
The right-sized, right-priced solution to fit the needs of any practice.
INSZoom was built for immigration professionals. Having worked with everyone from solo practitioners to enterprises in the Fortune 500, we understand the flexible UX/UI and functionality needed to simplify the case management process for organizations of all sizes.
Empower Your People with Rapid Time-to-Value
Elevated Workflows
Leveraging auto-population, smart automation, and an industry-first virtual assistant, INSZoom is poised to increase employee efficiency and save clients 1/3 of the effort and time in processing cases.
Flexible Integrations
With flexible integrations, INSZoom enables e-filing of USCIS and DOL forms while also empowering users with the option to create custom integrations and to select out-of-the-box integrations with leading accounting and billing platforms such as QuickBooks Online, LawPay, and Authorize.net
Cloud-Based Advantage
INSZoom's cloud-based solution empowers you to collect and store information from foreign nationals and clients worldwide with a central repository for all data. Meanwhile, advanced security features and permissions keep priority information safe.
Frequently-Asked Questions
INSZoom is a secure, well-trusted SAAS-based platform that offers unmatched configurability and top-of-the-line technical capabilities. Examples of key differentiators are the robust digital questionnaire and forms library, the H-1 registration module, automation of data entry from USCIS receipts, and the ability to track/process cases to the US, Canada, and any other country.
In general, the account set-up process takes 2-5 business days. Additional time must be considered for data migration and configurations.
INSZoom Enterprise offers the full range of capability found in INSZoom Professional, and additional capabilities such as the ability to grant customized HR Portal access to multiple corporate contacts, the ability to automate templated emails and reminders, and the ability to set up "Advance Case Request" – a capability built to streamline the case initiation process.
As our library is constantly evolving and increasing, please contact us directly, for a list of the forms for the specific countries of interest.
Please reference the "Learning Center" within the application, for recording of short training demos, and webinars. You may also refer to the Mitratech Support Handbook for full details on submitting a support ticket.
Experience INSZoom 
Schedule a Demo to See INSZoom's Immigration Case Management Solutions in Action